Retiring to Andorra

An enjoyable place to spend your retirement, the natural environment of the Principality of Andorra charms and unwinds. Its health system is among the finest in the world and offers security to retirees.
Retire to Andorra: unwind in the heart of the Pyrenees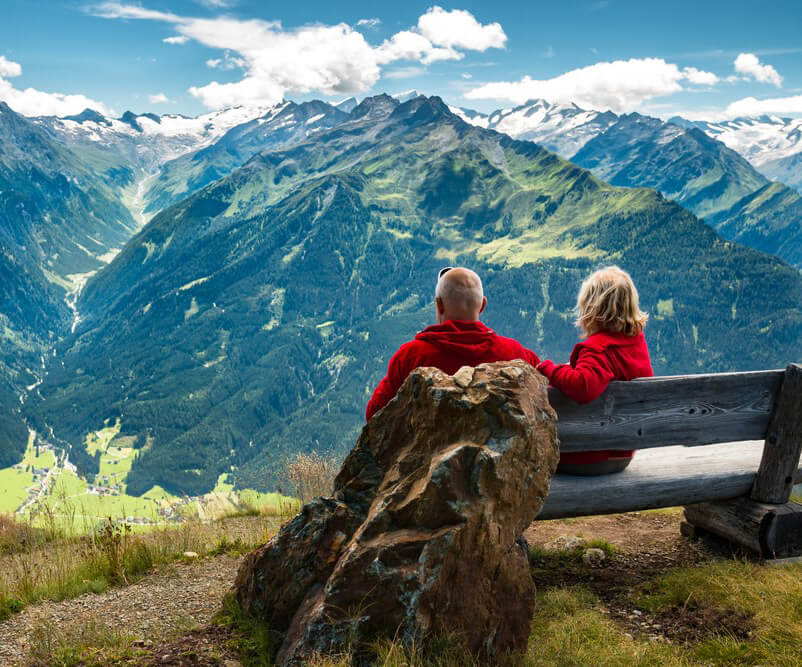 A small country with many charms, Andorra is a principality lying between Spain and France. Its geographical location in the heart of the Pyrenees and its area of 468 km2 make the Principality the ideal place to unwind. Andorra's idyllic natural environment, bathed in a Mediterranean climate, offers retirees a calm, peaceful lifestyle. One of the safest destinations in the world, the minimal crime rate is another incentive.
To travel around, you can choose from the public transport system that runs along the various routes between the towns and villages, calling a taxi, taking the express bus or using your own car. Bicycles and motorbikes are also popular in the principality.
By relocating to Andorra, you can enjoy 300 days of sunshine per year and discover an incredibly rich natural environment. A walk in the Andorran Pyrenees will immerse you in the picturesque landscape. Climb up into this unique environment to discover the variety of rare species.
Do you love history? Andorra boasts architecture from many historic periods, starting with Roman art. Enjoy all these wonders on walks along the main routes. There are many activities available. Pace your days the way you prefer.
Thanks to its geographical situation, Andorra also invites you to practise winter sports. Its three resorts bring together devotees of cross-country skiing, Alpine skiing and other more relaxing activities and promise an unforgettable winter. The resorts of Grandvalira, Vallnord and La Rabassa-Naturlandia have made a name for this country and are easily accessible. In Andorra, you are never far from a ski resort. Once you leave the capital, the furthest resort is only 16 km away!
In order to realize a desire to a new start, you must have the certainty of a successful arrival.Virginie Hergel
Conditions for retiring to Andorra
More and more retirees want to relocate to the Principality of Andorra. Legislation has enabled the country to open its doors to the world by creating the status of "passive resident". This immigration status is for those who decide to settle in the country without carrying out professional activities.
This legal option allows retirees with income from sources other than work to enjoy a good quality of life and low rates of tax.
Individuals who do not have Andorran nationality are eligible for passive residence, especially those seeking residence without employment. To obtain this status, you must undertake a minimum investment of €400,000 inside the country. This amount can be used to buy a property or be invested in a company in the principality. You can also deposit this amount in a personal bank account. Equally, you must deposit a non-interest-bearing bond of €50,000 with the AFA (Andorran Financial Authority).
There are other requirements if you seek passive residence in Andorra. The Principality only accepts individuals with a clean criminal record, a certificate of marital status and a valid passport. You must also provide certificates about your pension, health insurance or disability.
A medical examination is required, which is carried out in Andorra by the medical service of the Immigration Office. You must also prove you have income of at least 300% of the national minimum wage. Lastly, anyone with passive residence in Andorra must spend at least 90 days here each year.
Set Up Andorra helps you relocate to Andorra
Ready to relocate to Andorra? Set Up Andorra will guide you through the process. If you meet the requirements for obtaining residence in the Principality, Set Up Andorra offers its support to carry out the various administrative formalities. The forms need to be completed in Catalan, Andorra's official language.
Among other services, we help future residents to find a suitable home.
Set Up Andorra is with you from the start and until your plan to relocate to Andorra is completed. Our personalised assistance is tailored to your profile and requirements. As well as planning, make the most of our personalised assistance to settle in Andorra.
Thanks to our network of partners, we can offer a range of day-to-day private concierge services.
Take advantage of Set Up Andorra's personalised concierge service to find your future home, a property for rent or house for sale in the Principality. Make the most of our services to organise your move and settle in.